This store requires javascript to be enabled for some features to work correctly.
A quality necklace that embraces classic simplicity.
Each piece is entirely made by hand.
All materials and tools are ethically sourced from small businesses within North America.
Jewellery made to last
Hand Stamping uses a set of tools with a letter or design on the end that is carefully hammered into the metal by hand. This creates a deep, permanent impression. Engraving done by machine is much shallower and can fade or become hard to read over time.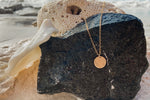 Beautiful.
I am so pleased with my Birthday flower necklace from Bathing Boomers. It is versatile in providing three different lengths and it is pretty as well as elegant. I have been sleeping and showering with the necklace on and the big bonus for me is that it does not get tangled at the back of my hair when I wake up and it definitely does not tarnish when exposed to water. I am 60 yrs old and I think this necklace is truly for any age! I will be buying more for gifts .
OBSESSED!
Bought these as a gift, and loved them so much I had to get one for myself!! Perfect size, length, everything!!