This store requires javascript to be enabled for some features to work correctly.
Look and feel your best in these lightweight and comfortable leggings.

The high rise covers your midsection while lying smooth under our swim tops and won't dig in. One of our best-sellers, these leggings are the perfect way to stay comfortable and cool.

They are made from high-quality, breathable material that dries quickly and are ideal for travel. These leggings are super-soft, lightweight, and designed to maximize comfort and minimize the risk of chafing. A must-have for any occasion!
BUNDLE WITH A SWIM TOP & SAVE 15%
Bundle With Any Of Our Swim Tops & Save 15% + Free Express Shipping
Testimonials
Fast Drying. This was my first time to wear water leggings! I was very happy with the fit and feel of these leggings! I wear them in my water aerobics and the fabric has a good feel and weight in and out of the water. Love the fact they dry quickly! Looking forward to wearing them on a boating/lake trip this month!

Cindy, Verified customer

Leggings! Very comfortable to wear, in and out of the water! The fabric/workmanship is great and the size is very true! I'm very pleased with my purchase!

Nancy McLeod-Elder, verified customer

Fantastic leggings! I bought these to go with the swim shirt. Wow!! So comfortable and the suit looks great. A real confidence booster. Thank you!!

Janet Loram-Martin, Verified customer

I love the leggings. So comfortable. I swam in them for the first time this weekend and they were great.

Catherine Payne, Verified customer
"Beautiful material well made and super comfortable."
Our best-selling leggings are lightweight, high-waisted, and designed to maximize comfort while swimming or lounging.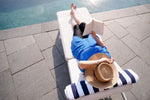 Let customers speak for us
Love these
Super comfy. I wear them both for swimming and just lounging around.
Return Information
I need next size up, may I return my order for an exchange? Sent email last week but no response.
Everything was great. So happy I finally have a swim suit I feel comfortable wearing. I am looking forward to this summer.
So comfortable
I haven't worn them in the water yet, but I love them. I often spend time in a Muslim country, so I have to cover up and this is a stylish way to do it. I had to buy a bigger size, to accommodate my mummy-tummy, but was able to taper the legs a little so that they fit. One satisfied customer!